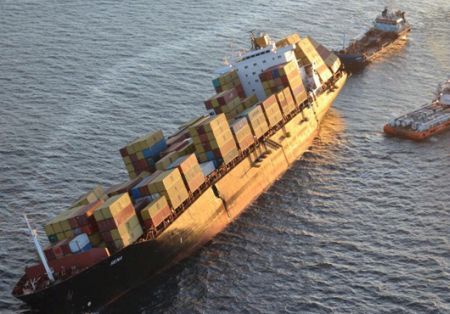 ATSB Confirms Fatigue Impairment of Rena Crew
---
Following the analysis of the sleep and work data supplied by the Transport Accident Commission (TAIC) of New Zealand, the Australian Transport Safety Bureau (ATSB) concluded that it was likely that both the master and the second mate were at risk of at least mild fatigue impairment during the work period immediately preceding the Rena grounding in October 2011.
---
On 4 October 2011, the container ship Rena departed Napier, New Zealand, bound for Tauranga, New Zealand, with an estimated arrival time of 0300 on 5 October. Over the course of the passage, a number of changes were made to the ship's passage plan to reduce the distance to Tauranga and ensure an on time arrival.
On October 5, the container ship MV Rena grounded on the Astrolabe Reef, off the coast of Tauranga, resulting in a major oil spill, the worst in New Zealand's maritime history.
The master's sleep and work schedule placed him at significant risk of fatigue impairment during the days preceding the accident, due to time of day for both work and sleep, sleep duration, and sleep fragmentation effects, ATSB said.
The ATSB also conducted an analysis to determine the likelihood that the second mate had adapted to the night watch schedule, and the potential impact of such an adaptation on fatigue impairment risk.
"That analysis indicated a slight adaptation effect at around 14 days of a consistent schedule. However, the extent of adaptation was not sufficient to overcome the time-of-day effects on performance during the second mate's 0000 to 0600 work periods," according to ATSB.
TAIC is undertaking a formal investigation into this accident. As part of that work, TAIC requested the assistance of human factors specialists at ATSB, to assess the likelihood and extent of any performance impairment to the master and second mate due to fatigue.
To protect the information supplied by TAIC, the ATSB initiated an investigation under the provisions of the Transport Safety Investigation Act (2003).
The New Zealand Government said earlier this month that it wants parts of the ill-fated MV Rena's wreck, but not the whole thing, to be removed, opposing the application to leave the wreck where it is on the Astrolabe Reef.
The bow section of the wreck on the top surface together with the associated debris to a depth of 30 meters should be removed, according to Attorney-General Christopher Finlayson.
What is more, the Government wants the parts of the wreck below 30 meters closely monitored.
Nevertheless, due to safety risks and costs for the overall removal of the wreck, the parts of the wreck beneath shallow waters should remain as they are for now.