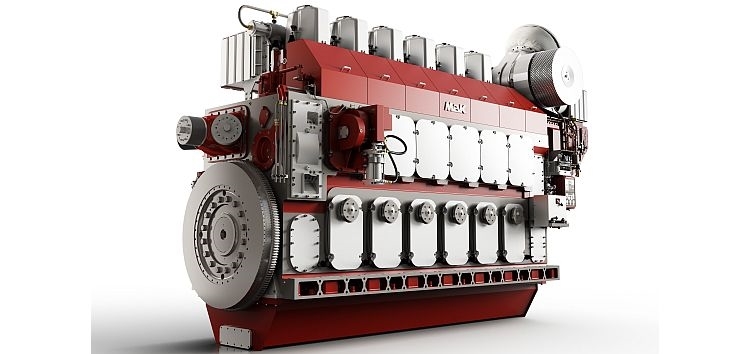 Caterpillar's LNG solutions in demand from cruise lines and commercial operators
---
LNG-fuelled propulsion is increasingly a key focus for Caterpillar, with a range of innovative solutions available
Caterpillar is making great strides in the design and production of LNG-fuelled propulsion systems through its MaK branded products. The company provides complete tailor-made systems extending from the shore-side bunker station to the ship's main engine and propeller, all from one supplier. New purpose-designed systems are available for a range of ship types while the enginebuilder's existing marine diesel engines have been successfully modified for dual-fuel use.
Now that liquid natural gas (LNG) bunkering infrastructure is expanding in key locations around the world, ship operators are taking a fresh look at the feasibility of LNG as a marine fuel.
Many see LNG as the smart new option, complying with all existing and upcoming regulations on emissions of SOx, NOx, particulate matter and CO2. The technology faces plenty of challenges – technical, operational and, of course, from a safety point of view – but it has already been successfully adopted by a number of progressive owners, notably in northern Europe and the US.
Cruise lines are pioneering the transformational move away from heavy fuel oils and distillates to LNG as the principal fuel for their ships. At the cruise sector's largest annual conference and exhibition in Florida earlier this year, one cruise line chief executive predicted that 80 per cent of cruise ships will be running on LNG by 2025, an opinion that led to lively debate.
All of the cruise sector's biggest names – and a number of smaller ones – are weighing up gas-fuelled propulsion systems for next generation vessels. For engine manufacturers and propulsion system specialists, this is a spectacular opportunity – the cruise orderbook is at a new peak of 59 vessels worth more than US$44bn and a number of cruise operators have not finalised their choice of propulsion systems.
"We see a significant market in the commercial and offshore sectors, both for engine modifications and new installations," commented Ulf Hannemann, Caterpillar's segment manager Cruise & Ferry, "but it is cruise lines in particular which are spearheading technology developments for a number of reasons.'
"Their ships are highly visible, calling sometimes in populous city centres as well as remote environmentally sensitive beauty spots," Hannemann continued. "Ships hotel power load is heavy at all times, during port calls too, and any impact on the local environment is clear to see. Their cargo is people and they want repeat business. Black smoke from the funnel or soot on the deck by the swimming pool is simply not a runner."
However, the cruise industry is not alone. Steadily tightening emission regulations pose new and complex fuel management challenges for many. Companies in the firing line include ferry firms, container lines, short-sea operators, offshore vessel owners and the providers of inshore and harbour service vessels including tugs and workboats.
Amongst the power system providers, Caterpillar is in pole position and has already developed tailor-made LNG propulsion systems for a wide range of vessel types. Via its MaK brand, the company is working with Hamburg-headquartered LNG and cryogenic specialist Marine Service GmbH to offer tailor-made systems for retrofit and newbuilding. The co-operation means that every link in the engineering chain from bunker flange to propeller – and everything in between – is available from a single source.
Caterpillar specialises in all aspects of LNG fuel and propulsion – from front end engineering and design (FEED) studies to engine architecture and the new technologies that raise operating efficiency. Its solutions include special features to minimise methane slip, incorporating variable valve timing, flexible camshaft technology and a Caterpillar patented 'waste gate'. These innovations combine to avoid part-load choking, optimising the fuel/air mixture to provide fast upload response times and effective low-load operation.
System safety is ensured through Caterpillar's control and monitoring process, which continuously tracks engine performance in real time. In-cylinder pressure monitoring devices prevent engine knocking by adjusting fuel injection and valve timings within the accepted tolerance range, with alarms set off should out-of-range exceptions occur.
The bespoke handling solutions provided by Marine Service cover the entire fuel gas supply system, including storage tanks, scalable vaporiser system, double-walled piping systems inerted with nitrogen at up to ten bar, and components including pumps, valves, level sensors and insulation. Most importantly, Marine Service's gas conditioning system expertise ensures that engine fuel is of the right quality to be supplied at the right temperature and pressure to vaporise into a gas which can be burned in the dual-fuel engines. Effective fuel control and management is paramount.
A recent retrofit onboard the 6,500m3 multi-gas carrier Coral Anthelia shows what can be done to improve the emissions profile on existing engines. The Anthony Veder Group ship carries LPG, ethylene and LNG cargoes on short-sea trades, spending much of her time in the European Emissions Control Area.
Built in 2013, the vessel was delivered with a conventional six-cylinder MaK M 43 C diesel engine but owing to her trading pattern, Veder decided to assess alternative fuel solutions. The engine was still relatively new and replacing it was not a viable option, so management decided to convert the engine into a dual-fuel MaK M 46 DF engine with the same footprint.
The necessary modifications included to rebuild the main engine from M 43 C diesel to an M 46 dual-fuel with all mandatory modules, including gas valve unit (GVU), ignition fuel, exhaust gas and ventilation module, as well as exhaust gas relief valves in the exhaust pipe system. The project was undertaken at Van Brink shipyard with the support of authorised MaK dealer Bolier, and completed in October 2014. The vessel has been operating with improved efficiency and reduced emissions ever since.
The adoption of LNG as a marine fuel nonetheless introduces a range of new challenges. Some are operational; some are technical; usually, the two are inter-linked.
Engine makers need fuel energy content to fall within a specified range to meet their engine management system requirement, for example, but today fuel suppliers use different methods to calculate the indicative methane number. Cruise lines taking on bunkers where the methane number is too low would risk not being able to complete a voyage, and having to take on either distillates or fuel oil in the next port of call. More significantly, the potential shortcoming could compromise the ability of cruise companies to meet SOLAS 'safe return to port' requirements.
In a separate breakthrough, Caterpillar has also moved to address the issue of operating gas-fuelled engines efficiently at low loads, and specifically loads below 20 per cent. Various strategies are possible, including taking one bank of cylinders in a Vee configuration out of the combustion process, thereby allowing the other engine bank to operate at a higher load.
At its Rostock facility, Caterpillar demonstrated the capabilities of the MaK M 46 DF engine and started the engine by using LNG from the very beginning, thus avoiding diesel engine specific emissions – another first for the company. "This innovative concept was realised by utilising the experience Caterpillar has in electronically controlled engines. These engines will use the latest generation of Caterpillar's own Engine Control Units (ECU), which in conjunction with in-house software development enable customer operation profile specific optimisation", noted Dr Frank Starke, global product manager medium-speed engines. "This is a major advance, particularly for cruise lines starting their engines in city-centre port locations."