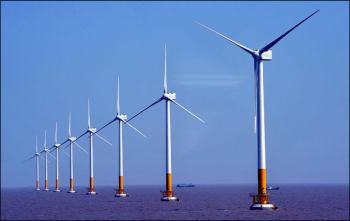 China: City Planners Announce Two More Wind Farms off Shanghai's Coast
---

SHANGHAI will build two more offshore wind farm projects by 2015 to increase the use of clean energy, the city's planner said yesterday.
Shanghai will soon start accepting bids from wind turbine makers, Zhou Ya, vice director of the Shanghai Development and Reform Commission, said at the Offshore Wind China 2011 conference.
The city is home to China's first major offshore wind project – the 102-megawatt Donghai Bridge Wind Farm. One of the two planned farms will be the second phase of the Donghai Bridge project, Zhou said. The other is planned in Lingang New City in the Pudong New Area, which is close to the Donghai Bridge project.
Zhou also said the city aims to have three to five internationally competitive wind turbine equipment manufacturers by 2015.

Offshore wind farms are seen as a new growth area for Chinese wind turbine makers such as Sinovel Wind Group Co and Xinjiang Goldwind Science and Technology Co. The industry has been hit by slower earnings growth due to overcapacity and price competition after the country's annual onshore installation capacity was believed to have peaked last year.

Offshore wind farms cost more and require more technology know-how, which increases risks for investors.
The country's offshore wind energy potential is estimated at 750 gigawatts, about three times the land-based potential. Shanghai's offshore wind energy potential is about 6GW, Zhou said.
Li Junfeng, secretary-general of the Chinese Renewable Energy Industry Association, said China's installed offshore wind capacity will reach 5GW by the end of 2015.