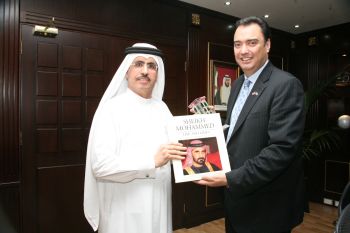 Council of Energy meets US commerce delegation
---

H.E. Saeed Mohammed Al Tayer, Vice Chairman of Dubai Supreme Council of Energy, has met with a US delegation to discuss the importance of coordination and collaboration among different parties concerned with commerce. The visit was also intended to highlight the bilateral economic and commercial relationships between the UAE and the USA.
We have explored the responsibilities of the Dubai Supreme Council of Energy, which works in line with the vision of the energy sector and its sustainability in the emirate of Dubai," Al Tayer said. "We have discussed all issues related to commercial, economic and financial matters through establishing and promoting a long-term partnership in the field of energy."

Dubai's Integrated Strategy of Energy 2030 hopes to provide alternative sources of energy to the emirate, as it currently relies 99 per cent on gas, and one per cent on diesel oil as a source for power generation.

Discussions also tackled the participation of the private sector in strategic projects, producing power and water through independent power projects, and smart grid projects.