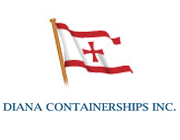 Euroseas Ltd., an owner and operator of drybulk carriers and container vessels
---
Euroseas Ltd., an owner and operator of drybulk carriers and container vessels and provider of seaborne transportation for dry bulk and containerized cargoes, announced yesterday that a subsidiary of the Company has entered into time charter agreement

for the following vessel:
The M/V Maersk Noumea, a 2,556 teu, 2001 built intermediate containership, has been extended for about 2 years at a gross daily rate of $15,750. The new rate will apply from the first days of July 2011.This employment is expected to generate approximately $11.5 million of gross revenues during the period of the charter.
Following the above mentioned charter, approximately 76 of the Company's total container fleet days for 2011 and approximately 19 in 2012 are secured under period charters. The Company's drybulk fleet is 100 covered in 2011 via time charter contracts or Forward Freight Agreements (FFAs) and 50 covered in 2012 via time charter contracts.
Aristides Pittas, Chairman and CEO of Euroseas, commented: "We are very pleased to have extended our cooperation with Maersk for the next two years at a rate that signifies the strength of the current market. We are still very positive on the prospects of the container market for the next years and especially on the sizes that we focus."
Source: Euroseas Ltd.