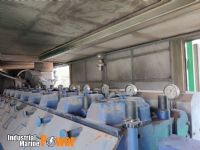 Date: 1/30/2023 12:59:04 PM
Details:
Reviews 6
Dear Sir/Madam,
We have Available HYUNDAI HIMSEN 9H21/32 GENERATOR SET WITH ENGINE in Stock for Sale. Photos Attached

Brand: HYUNDAI HEAVY INDUSTRIES CO.LTD
Model No: 9H21/32
Quantity: 01 Pcs
Manfacturing Date: 2010/12/16
Condition: Used

If you have any query please contact us. Thank you


============
Thanks & Regards-
Md. Sarwar
Sales & Marketing Manager.