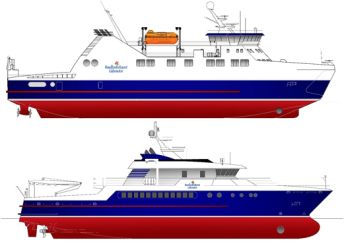 Knud E. Hansen AS, Fleetway Sign Contract with GNL in Canada for Basic Design of Six Ferries
---

Knud E. Hansen A/S in partnership with Fleetway Inc. have recently signed a contract with the Government of Newfoundland and Labrador (GNL) in Canada for the Basic Design of a series of six ferries for operation on the intra-provincial south shore routes off Newfoundland. This is the second such arrangement between the two companies, with the Basic Design well underway for an 80m RoPax ferry for year-round operation on the Fogo Island route off the coast of Newfoundland.
The south shore ferries will be developed in close consultation with the end user to ensure that when built the ferries are customized for the routes, conditions and requirements of the operators. This goes against the current trend for mass-produced designs which loosely fit broad requirements built around major equipment. A constant dialogue will be maintained between Knud E. Hansen A/S, Fleetway and GNL throughout the design process to ensure that all requirements are met. Attention to end user requirements is particularly important for vessels operating in the sometimes-harsh Canadian climate. As such, along with the Fogo project, the new vessels will be ice strengthened and designed for year-round operation.
The south shore ferries are a series of six sister vessels specifically designed for the routes. The operating areas for these small but versatile ferries have a reputation for being rough, requiring vessels with excellent sea keeping and maneuvering abilities. The 41m steel ferries will have a passenger capacity of 36 with a multi-use cargo deck and cargo hold and a service speed of 12 knots. The vessels will be designed to accommodate persons with a disability, and will meet all Transport Canada and Government of Newfoundland and Labrador Marine Safety regulations. The south shore vessels will be built locally in Newfoundland and Labrador, benefiting those in the community that will also use the ferries.
The Fogo Island Ferry has a capacity of 64 cars and 200 passengers with a service speed of 14 knots in open water and 4 knots in sea ice. This vessel is being designed to utilize green technology and carries a number of additional class notations reflecting this. The Fogo ferry is being designed to meet all Transport Canada, and Government of Newfoundland and Labrador Marine Safety regulations and will be classed with the American Bureau of Shipping (ABS).

Knud E. Hansen A/S prides itself on customized designs and always works closely with the end user to ensure fitness for purpose, and these two designs for the unique Canadian environment are prime examples.