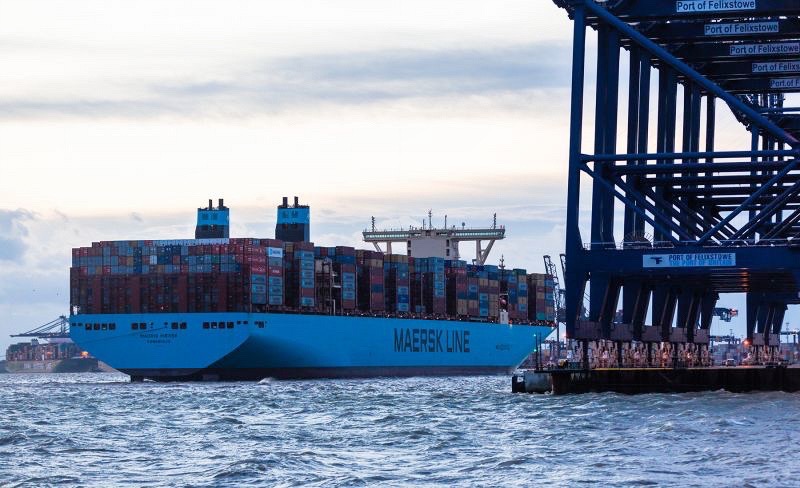 Madrid Maersk Makes European Debut
---
The largest containership to ever visit northern Europe arrived at the Port of Felixstowe earlier this week as part of its maiden voyage from China.
The 20,568 TEU Madrid Maersk arrived in Felixstowe on Tuesday marking its first port call in North Europe as part of the 2M's AE2 service from Asia to Europe. While at the port, crews were expected to unload over 6,000 TEU loaded in China and Malaysia for the UK.
"The Port of Felixstowe is firmly established as the port of first-choice in the UK for the largest mega ships," said Clemence Cheng, CEO of the Port of Felixstowe. "We were the first in the UK to handle this latest class of vessel and continue to offer the widest and most frequent range of services on the major Asia – Europe trade."
On Friday, Madrid Maersk made its maiden call at the Port of Antwerp, where three hundred dockerworkers will unload 3,000 containers from the ship and load another 4,000 on board.
"Containers are much more than metal boxes for the goods that we like to find in our supermarkets," says port of Antwerp official, Marc Van Peel. "They form an undeniable source of employment, not only in Antwerp and the Waasland port area but also far beyond the borders of the Province of Antwerp. For these and other reasons it is crucial for our port to ensure that it has the additional capacity for handling containers, because more containers means more jobs for Flanders."
Built by South Korea's Daewoo Shipbuilding & Marine Engineering, Madrid Maersk is the first of 11 vessels making up Maersk Line's 2nd generation Triple-Es, known officially as the EEE Mark II. The Madrid Maersk measures 399 meters long, has a beam of 58.6 meters and, with 20,568 TEU capacity, is one of the world's biggest containerships.
The 2M alliance is made up of core members, Maersk Line and Mediterranean Shipping Company (MSC), with now offered on sailings by Hamburg Sud and Hyundai Merchant Marine.
The vessel will stay in Antwerp until Sunday, after which she will sail for Rotterdam.