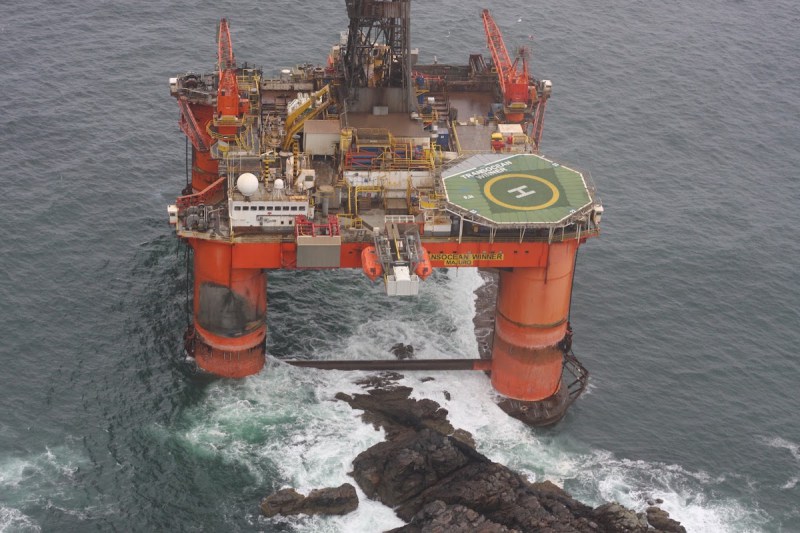 No Pollution Detected from Grounded Rig in Scotland -Coastguard
---
The drilling rig Transocean Winner remains hard aground off Scotland but authorities have detected no pollution in the area despite breaches to fuel tanks containing large quantities of diesel, the UK Maritime and Coastguard Agency (MCA) said Thursday.
Teams from Smit Salvage and Transocean will continue inspections on board the rig this week.
The Transocean Winner remains in its original position along the west coast of Isle of Lewis in the Western Isles of Scotland.
An overflight of the rig and surrounding areas on Wednesday detected no sign of pollution, the MCA said.
The rig was reported to be carrying 280 metric tonnes of diesel when it ran aground. During an initial damage assessment earlier this week, salvors identified two of the four diesel fuel tanks on the rig appear to have been breached.
The MCA said Thursday it is estimated that the maximum amount of diesel which could have been lost from the breached tanks is 53 tonnes, but they are trying to determine out exactly how much remains in the tanks to ascertain the quantity of fuel released. The Coastguard update noted that diesel is a light and non persistent oil which presents much lower environmental risks than heavy black crude oil.
The 17,000 ton Transocean Winner was under tow by the tug ALP Forward from Norway to Malta when heavy weather caused it to break free and run aground off the island's remote, rocky coastline on Monday, August 8.
The MCA has not indicated what the plans are for refloating or removing the rig from the location. Inclement weather has been an factor all week, allowing salvage teams to board the rig only once for a few hours on Tuesday afternoon.
The coastguard said the tug Union Bear remains in the vicinity along with the UK Government-contracted Emergency Towing Vessel Herakles.
Hugh Shaw, the Secretary of State's representative for maritime and salvage, continues to monitor the operations and is in contact with all key stakeholders including Transocean, Smit Salvage, the Scottish Environment Group and Western Isles Council.