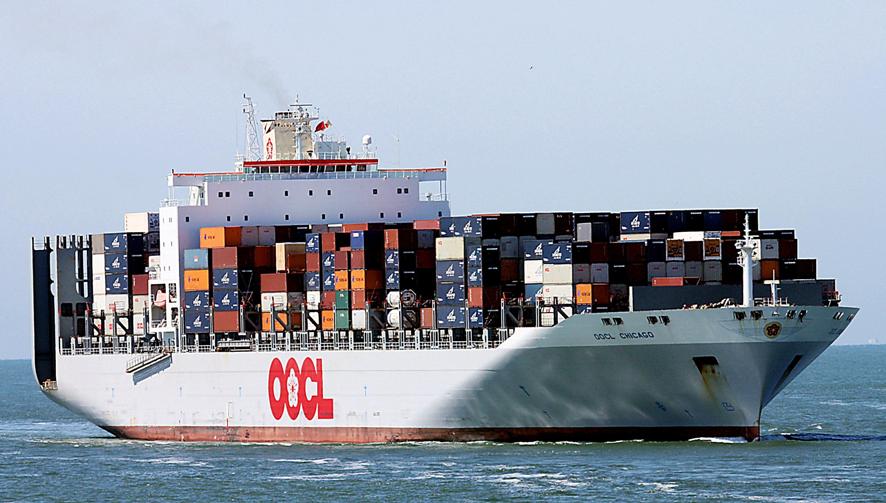 Top 10 Container Shipping Companies in the World
---
List of container shipping companies by ship fleets and containers
This is a list of container shipping companies ranked in order of the Twenty-foot equivalent unit (TEU) capacity of their fleet of container ships.

10. Yang Ming Marine Transport Corporation
Yang Ming Marine Transport Corporation is an ocean shipping company based in Keelung, Taiwan (ROC). This shipping line was founded in 1972, but has historical links in merger with the China Merchants Steam Navigation Company, which dates back to the Qing Dynasty (1872–1995). Yang Ming currently operates 84 container ships up to 8,250 twenty-foot equivalent units (TEU) and 17 bulk carriers).
As of mid-2012, Yang Ming operates a fleet of 85 vessels with a 4.2-million-D.W.T / operating capacity 346 thousand TEUS, of which container ships are the mains service force
TEU Capacity: 538,912 NO. OF SHIPS: 102
9.MOL
MOL (Mitsui O.S.K. Lines, Ltd.) is a Japanese transport company headquartered in Toranomon, Minato, Tokyo, Japan.The company's main area of operations is international shipping. Its alligator logo can be seen on containers in ports around the world.
Founded as a key part of the Mitsui zaibatsu (family-owned conglomerate) during the early industrialization of Japan, the company is now independent of the zaibatsu, but remains part of the Mitsui keiretsu (group of aligned companies).
TEU Capacity: 554,425 NO. OF SHIPS: 98
8. OOCL
Orient Overseas Container Line (OOCL) is a Hong Kong-based container shipping and logistics service company. OOCL is one of the world's largest integrated international container transportation, logistics and terminal companies[1]with more than 320 offices in 70 countries around the world, providing 78 services covering international trading markets with a fleet of more than 300 ships, including Grand Alliance member line vessels, feeder and OOCL-owned and operated vessels. OOCL has vessels of different classes with capacity varying from 2,500 twenty-foot equivalent units (TEU) to 13,000 TEU, and ice-class vessels for extreme weather conditions.
TEU Capacity:561,522 NO. OF SHIPS: 104
7.Hamburg Süd
Hamburg Süd is a shipping line on the North-South ocean trade routes. Until 2016 it was part of the Oetker Group, a family-owned German conglomerate. On December 1, 2016 it was announced that A.P. Moller–Maersk Group's shipping division Maersk Line had signed an agreement to take over the company.
TEU Capacity: 645,889 NO. OF SHIPS: 136
6. Hapag-Lloyd
Hapag-Lloyd is a German transportation company comprising a cargo container shipping line, Hapag-Lloyd AG, which in turn owned other subsidiaries such as Hapag-Lloyd Cruises.
Hapag-Lloyd AG is the world's fifth largest container carrier in terms of vessel capacity. The company was formed in 1970 as a merger of two 19th-century companies, Hapag, which dated from 1847, and Norddeutscher Lloyd (NDL) or North German Lloyd (NGL), which was formed in 1856. Hapag-Lloyd was acquired in 1998 by TUI AG (Hanover) and became its fully owned subsidiary in 2002. In 2009, TUI sold a majority stake to a group of private investors and the City of Hamburg, the so-called Albert Ballin Consortium. The main founders of Hapag and Lloyd in the 19th century were Berenberg Bank, Fritz Albert Haas, and H. J. Merck & Co.. In February 2012 the German company TUI sold more shares of the German owned company Hapag-Lloyd to the City of Hamburg which is the largest share holder with approx. 37% followed by Kuehne Maritime with 28% and TUI AG with 22%. The other shareholders are Hamburg-based banks and insurances.
TEU Capacity: 930,398 NO. OF SHIPS: 174
5. Evergreen Marine
Evergreen Marine Corporation is a Taiwanese container transportation and shipping company. Headquartered in Luzhu District, Taoyuan City, Taiwan, is a global containerized-freight shipping company. Its principal trading routes are: the Far East to North America, Central America and the Caribbean; the Far east to northern Europe and the east Mediterranean; Europe to the east coast of North America; the Far East to Australia, Mauritius, South Africa and South America; and an intra Asia service linking ports in Asia to the Middle East, Persian Gulf and the Red Sea.[6] With over 150 container ships it is part of the Evergreen Group conglomerate of transportation firms and associated companies. Evergreen calls on 240 ports worldwide in about 80 countries, and is the fourth largest company of its type, ranked behind Maersk, Mediterranean Shipping Company, and CMA CGM (in order).
TEU Capacity: 931,860 NO. OF SHIPS: 200
4. COSCO
China COSCO Shipping Corporation Limited, also referred to as the China COSCO Shipping Group or China COSCO Shipping, is a Chinese business conglomerate and state-owned enterprise headquartered in Shanghai. The group is engaged in a variety of business sectors, with a focus on integrated logistics, shipping, finance services, and equipment manufacturing. The company was formed by the merger of the COSCO Group and the China Shipping Group in January 2016. The merger was precipitated by an ongoing downturn in the containerized-ocean-freight and break bulk shipping industries that stymied the profits of both groups and motivated them to unite and endure the decline together. The merged entity is composed of several business clusters each of which is managed by one or more subsidiaries. Its core business cluster is container, dry-bulk, and oil shipping services.
TEU Capacity: 1,554,862 NO. OF SHIPS: 296
3. CMA CGM
CMA CGM S.A. is a French container transportation and shipping company, headed by Jacques Saadé. It is the third largest container company in the world, using 170 shipping routes between 400 ports in 150 different countries. Its headquarters are in Marseille,and its North American headquarters are in Norfolk, Virginia, USA.
TEU Capacity: 2,354,358 NO. OF SHIPS: 546
2. Mediterranean Shipping Company
Mediterranean Shipping Company S.A. (MSC) is the world's second-largest shipping line in terms of container vessel capacity. As a private company it has no obligation to publish annual reports certified by independent parties; as a consequence, the data MSC releases about itself is not verifiable. As of the end of December 2014, MSC was operating 471 container vessels with an intake capacity of 2,435,000 twenty-foot equivalent units (TEU).
TEU Capacity: 2,678,779 NO. OF SHIPS: 496
1. A.P. Moller-Maersk Group
A.P. Møller – Maersk Group is based in Copenhagen, Denmark, with subsidiaries and offices in more than 135 countries worldwide and around 89,000 employees. It ranked 148 on the Forbes Global 2000 list for 2015.
A.P. Moller–Maersk Group also known as Maersk, is a Danish business conglomerate. A.P. Møller – Maersk Group has activities in a variety of business sectors, primarily within the transportation and energy sectors. It has been the largest container ship operator and supply vessel operator in the world since 1996. As of September 2016 the company is in the process of splitting its shipping and energy interests into separate divisions.
TEU Capacity: 2,996,188 NO. OF SHIPS: 585
if you like this article please share it, thank you
Related: Top 10 Biggest Container Ships in the World
Source: Wikipedia.