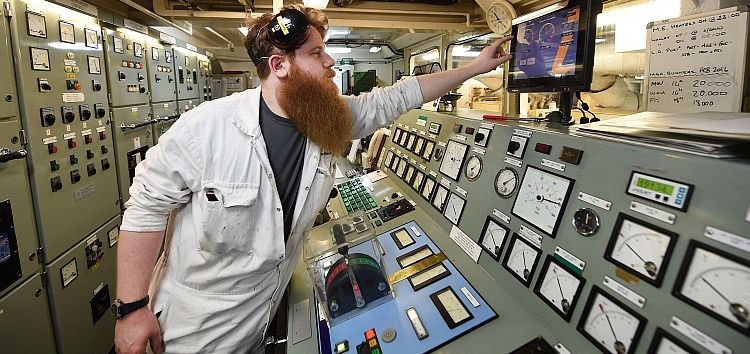 Auto mode detection capability for enginei
---
Diesel power specialist Royston has developed an advanced auto mode detection capability for its enginei fuel management system.
Enginei uses volumetric or mass flow measurement for enhanced fuel data analysis and reporting options, incorporating detailed performance data, fuel optimisation rates and mission critical information.
The development will enable more accurate monitoring of fuel consumption and vessel emissions, and is in line with IMO's recent approval of mandatory requirements for ships over 5,000gt to report fuel consumption to their flag states, likely to come into force in 2018.
In the conventional enginei installation, the operational mode of the vessel is indicated by manual notification into the system by a crew member. Operational modes are defined by different activities being undertaken by the vessel at different times and stages in a journey, and fuel consumption and emissions levels are influenced by the specific type of activity, speed and weather conditions.
The accurate monitoring of performance during different modes can, therefore, have an impact on the economic operation of the vessel.
Working with marine engineering specialists from Newcastle University, Royston has now developed an upgraded version of the enginei fuel management system that utilises sophisticated data processing and statistical analysis to identify the vessel's operational mode automatically.
By identifying individual modes automatically, the auto-mode capability removes the risk of human error introduced by the manual intervention of crew members and avoids the consequent risk of misinterpretation of engine and voyage data. In this way, more informed and accurate decisions can be made, based on trusted information about fuel consumption.
Development of the advanced auto mode system has included trials undertaken in partnership with offshore fleet services company GulfMark Offshore, on board its Highland Prince offshore support vessel which has a diesel electric propulsion system with four main Caterpillar engines and two auxiliary engines.
Royston's enginei fuel management system acquires comprehensive real-time engine and vessel performance measurements, beyond the usual revolutions per minute, GPS location and fuel inputs, to take in a range of other engine control unit outputs.
On board the vessel, touchscreen monitors on the bridge and in the engine control room show all aspects of key vessel information using displays and presentations of trending graphs against voyage data. The information captured on board is also available for remote interrogation by onshore management and supervisory staff through a secure online portal and web dashboard.
Damian McCann, product manager for enginei fuel management systems at Royston, said: "The auto mode detection capability eliminates the risk of human error and ensures the detailed and accurate monitoring of engine performance and fuel consumption.
"For example, different members of the crew may recognise or register different operational modes based on their relative experience, or there may be time delays in logging manual changes to the type of activity being undertaken.
"This can lead to data entry errors, leading to inaccuracies in the interpretation of performance data provided. With the new auto mode detection capability, this risk is eliminated, leading to more accurate and meaningful engine monitoring, from which key operational decisions can be made."
The enginei integrated fuel management system is compatible with all marine engine types and can be interfaced with newbuild engine installations or retrofitted to operating vessels