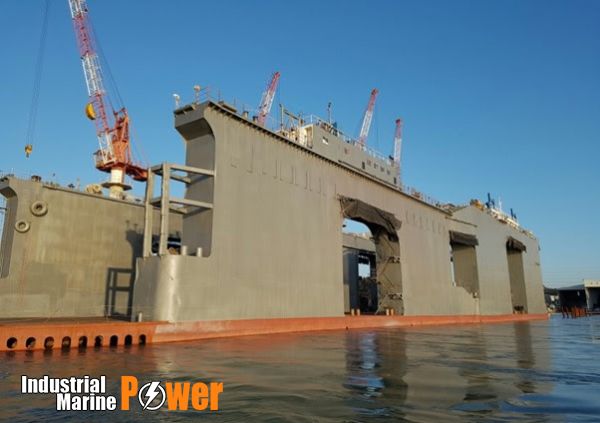 Date: 4/7/2022 11:17:34 AM
Details:
Reviews 3
10,000TLC FLOATING DOCK'S PARTICULARS
KIND OF SHIP: FLOATING DOCK
BUILT: 1986. JAPAN
REBUILT: 2008 KWANG SUNG SHIPYARD (Korean Yard)
GROSS TONS: 9,000TON
DISPLACEMENT: 18,000TON
LIFTING CAPACITY: 10,000TON
LIGHT WEIGHT: ABT. 7,000TON
LENGTH.O.A: 123M
BREADTH (OUT SIDE): 34.00M
BREADTH (IN SIDE): 27.00M
DEPTH (TOP DECK): 17.40M
DEPTH (SAFTY DECK): 15.40M
DEPTH (BALLAST HEIGHT): 3.90M
DEPTH (FULL DRAFT): 15.00M
DEPTH (LIGHT DRAFT): 0.90M
CRANE PART
NO 1 CRANE: LIFTING 12TON x 2SET
NO 1 CRANE BOOM: 35.00M
NO2 CRANE: LIFTING 10TON x 2SET
NO2 CRANE BOOM: 30.00M
BALLAST CAPACITY: 18,000CBM
F/W TANK CAPACITY: 200M3
BALLAST PUMP: 75HP x 1,600M3/Hr x 2SET / 900M3/Hr x 2SET
GENERATOR: 440V -- / 380V --
PROCESS: CURRENTLY RUNNING
LOCATION: SOUTH KOREA
Other details are subject to client's request.
Highly appreciated to your attention.
If you have any interst or inquiry, please do not hesitate to contact us anytime.
Best Regards,
Sinsin Trading Co.,Ltd
#207, Gwangjang-ro 34(Gwaebeop-dong), Sasang-gu,
Busan-city, Republic of Korea(South)